Oriental Archive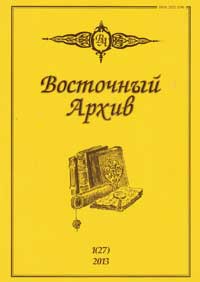 The Oriental Archive journal The Oriental Archive journal was established in 1998.
Published biannually.
The journal's mission is to expand the cooperation between archivists and Oriental Studies researchers. It promotes discovery, collection, analysis, in-depth commentary and publication of archive materials that provide a foundation for the comprehensive research of history, philosophy, economy, politics, cultures and religions of the Eastern nations and regions. The journal includes both documents per se, published with academic commentary, and works based on them. Articles about Russian researchers who played a significant role in the development of the Oriental Studies are also published. Both Russian and foreign authors contribute to the periodical..
Editorial Board:
Vladimir Belyakov – Editor in Chief
Natalya Charyeva – Executive Secretary
Dmitry Vasilyev
Ludmila Zelenina
Alexander Kadyrbaev
---
Contacts:
Institute of Oriental Studies of RAS 12, Rozhdestvenka st., office 213 Moscow
E-mail: orientalarchive@yandex.ru
Tel: (495)-621-80-03