News
Wednesday 5 October 2022
Russian Geographical Titles: the History of Discoveries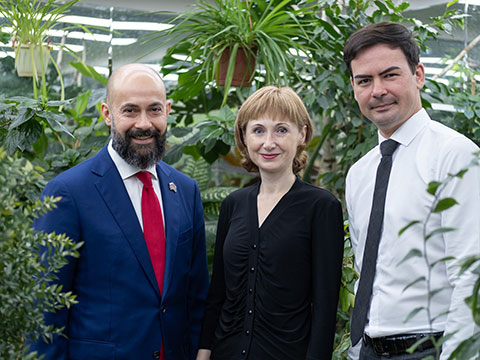 The international project "Russian Geographical Titles: the History of Discoveries" has started in Moscow. It was prepared by the South Pacific Region Study Center of the Center for Southeast Asia of Australia and Oceania of the Institute of Oriental Studies (the Russian Academy of Sciences) and the Miklouho-Maclay Foundation.
On the 5th of October, 2022, an exhibition "Russian Geographical Titles: the History of Discoveries" was opened at the site of the Moscow Children's and Youth Center for Ecology, Local History, and Tourism. The opening is timed to the National Teacher's Day. The exhibition will be available to the general public until the 25th of November, 2022.
The project goals are:
Preservation of the historical truth on the contribution of the Russian researchers to the world science;
The enlightenment and additional education of the Russian youth in history, geography and international relations;
The involvement of students and schoolchildren in scientific activities through a comprehensive program of activities.
Since the project is also aimed at educating the foreign youth, developing friendly contacts, and creating a positive image of Russia abroad, all content is also available in English.
The project was prepared on the basis of the collective monograph "The Russian Civilizational Heritage: the Russian Toponyms in the South Pacific Ocean" (Moscow, the Institute of Oriental Studies, 2021). The project's lectures and exhibitions were based on the research materials of this monograph.
Sergey Egorov, the representative of the Education and Science Department of Moscow, believes that the project is relevant for additional education of secondary school students. He thinks that it will be very useful to use it cyclically, from year to year, for the comprehensive development of the younger generation, as well as within the basic education framework.
During its grand opening the exhibition was conducted by two researchers of the Russian Academy of Sciences: Nikolai Miklukho-Maclay and Sophia Pale.
"In this project we tried to combine the seemingly incompatible - we adapted the adult world of scientific discoveries for our young audience. And we, in my opinion, have succeeded," said Ms. Sofya Pale. Her lectures have successfully started and are already available at the online-portal "Saturdays of the Moscow Schoolchild".
The project materials can be found in detail on the website: https://mikluho-maclay.org/projekts/
More details on the social networks: https://vk.com/maclayfoundation
Album of photos from the event: https://vk.com/album-133186284_285724829