News
Wednesday 21 September 2022
75 years of Russian-Indian Relations!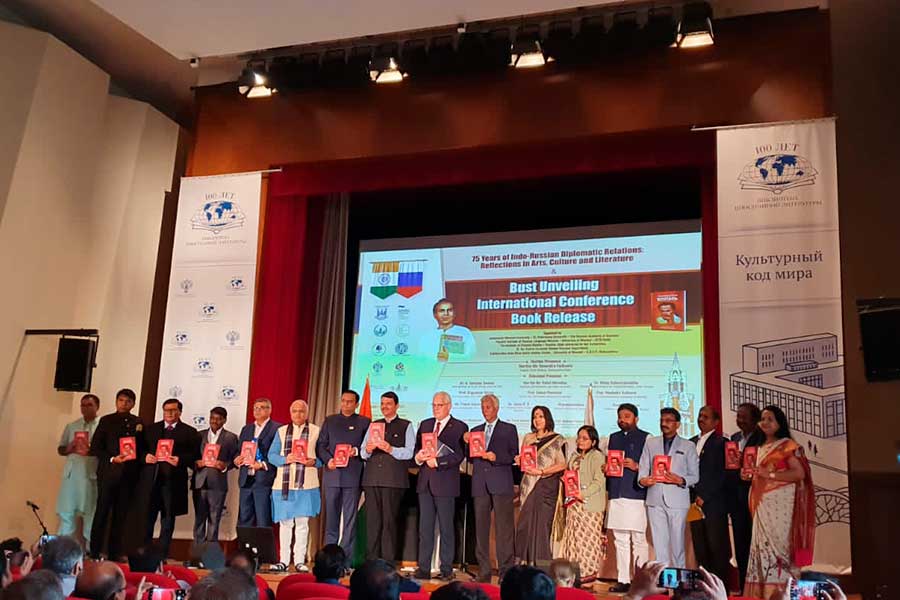 The Foreign Literature Library named after M.I. Rudomino hosted a series of events dedicated to the 75th anniversary of Russian-Indian diplomatic relations establishment on the 14th of September, 2022.
N. Romanova, the Deputy Director of the Institute of Oriental Studies, held a speech in front of a large delegation of officials from the state of Maharashtra, the Ambassador of India to Russia, and other Indian prominent figures of science and culture with a greeting from the leadership of the Institute of Oriental Studies (the Russian Academy of Sciences) at the international professional conference opening "The Role of Culture, Literature and Art in Strengthening Indo-Russian Ties. To the 75th Anniversary Diplomatic Relations between Russia and India".
A bust of Anna Bhau Sathe (1920-1969), the outstanding Indian poet and writer, politician, social reformer, and public figure, was unveiled within the event's program.
Anna Bhau Sathe was a man of great talent. He came from the very bottom, from the Dalits (untouchable caste), he lived a hard, short, but bright life.
He knew perfectly well the common people's troubles, their dreams of fighting for freedom, equality, for their human dignity. His work is consonant with the creations of Maxim Gorky, classic Russian socialist writer.
The personnages of Anna Bhau Sathe's novels and poems were poor people who were ready to give their lives for freedom and for liberal India.
The poet was a great friend of Russia and the Soviet Union, he greatly admired Vladimir Lenin. He hated war and fascism, wrote beautiful and piercing poems about Stalingrad, Russian soldiers, and World War II.