News
Tuesday 6 September 2022
The Institute's China Department Announces that Ms. Svistunova Passed Away on the 6th of September, 2022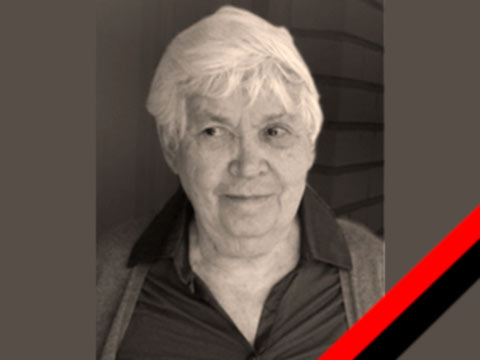 Ms. Svistunova was born in Moscow in the family of a military engineer, a prominent specialist in the aviation field.
Natalia Svistunova graduated with honors from the Eastern Department of History Faculty (Moscow State University) in the year 1953. She defended her diploma thesis "Agrarian Reform of 1947" under the guidance of V. Nikiforov.
From 1953 to 1957 she studied at the postgraduate course of Moscow State University with L.Simonovskaya, and prepared a work on agrarian policy of the Ming Empire first decades. In 1957 she joined the Sinology Institute (the USSR Academy of Sciences) and was soon sent to China for postgraduate studies at Peking University.
Professor Shang Hong-kui (1907-1983) was her studies supervisor. He was one of the greatest researchers of China of the 20th century, a leading specialist on the Ming and Qing empires history, an unsurpassed expert on old China and Beijing. The dissertation work abstract prepared by Natalia Svistunova was approved by the Academic Council of Peking University in1960, and she returned to Moscow.
The Sinology Institute became part of the Asian Peoples' Institute (the USSR Academy of Sciences) in May 1960. (In 1970 it was renamed the Institute of Oriental Studies, the USSR Academy of Sciences). Ms. Svistunova became a member of the China Department. She defended her Ph.D. thesis "Agrarian Policy of the Min Government in the Second Half of the 14th Century" in 1962.
Natalia Svistunova again underwent an internship in China in 1987-1989, a year at Peking University and a year at the People's University of China.
Ms. Svistunova's main work, which entered her name in the most important lists of Russian and world science, was the world's first complete and commented translation of the Min Code of Laws "Da Ming Lu", the most important traditional Chinese law source, which had been in force for almost five hundred years. The first volume of the translation was published in 1997, the fourth - in 2019. In these books Natalia Svistunova's talent was most clearly manifested. She proved herself as a connoisseur of the old China law, the entire rich historical context, and the extremely specific language in which these texts were composed. Ms. Svistunova was awarded for this work the Prize of the Russian Academy of Sciences, named after S.F. Oldenburg, in 2021.
Natalia Svistunova was a unique personality, a clear example of consistency, adherence to principles and uncompromising demands on everyone - and above all on herself.