Announcements
13 – 14 июня 2022 года
International conference "Past, Present and Future of Russian-Arabic and Arabic-Russian Translations"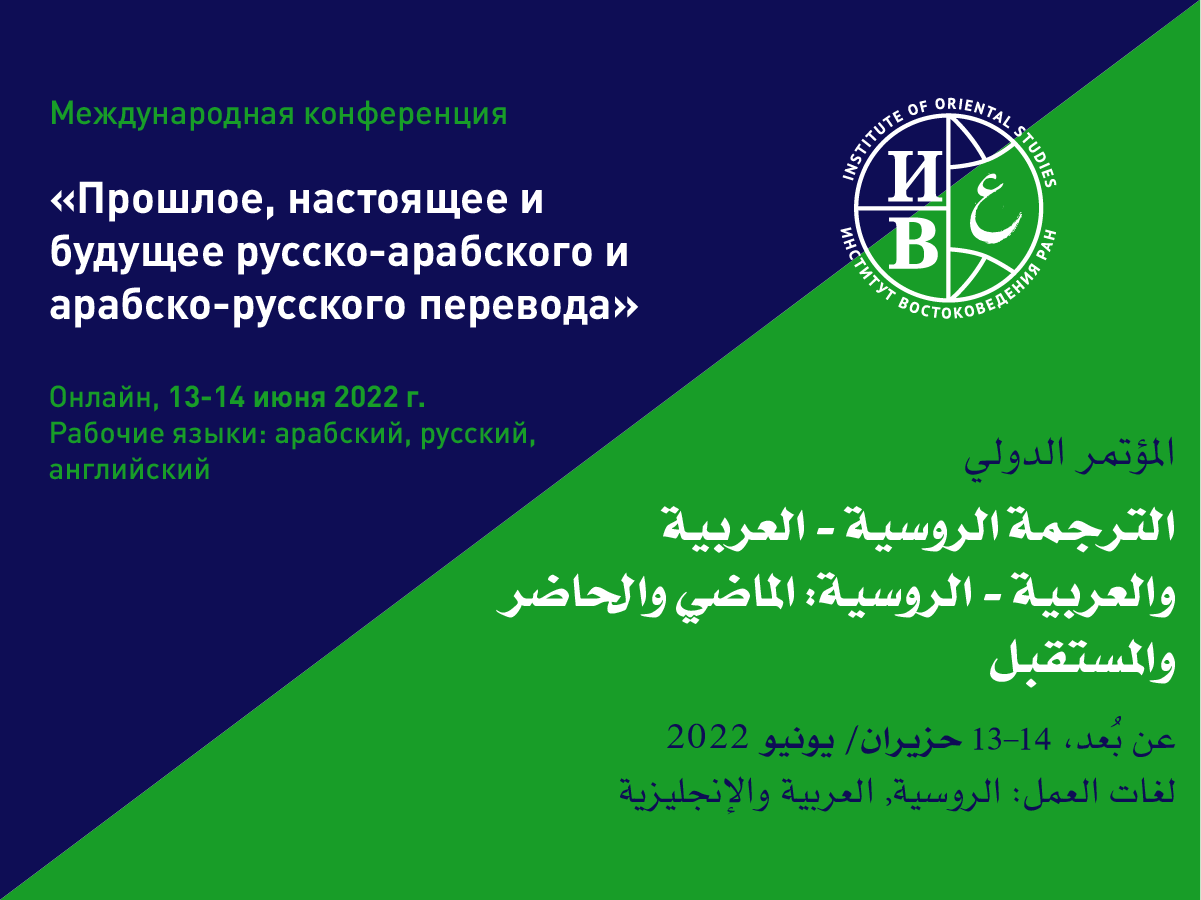 Center for Arab and Islamic Studies of the Institute of Oriental Studies, RAS is delighted to announce an international conference "Past, Present and Future of Russian-Arabic and Arabic-Russian Translations" which will be held on 13-14 June 2022 online.
Languages: Russian, Arabic, English
Day 1
Session 1: 4-6 pm (Moscow time)
Session 2: 6:30 – 8:30 pm (Moscow time)
"Translations of Classical and Modern Russian Poetry and Prose into Arabic"
Day 2
4-6 pm (Moscow time)
"Translations of Classical and Modern Arabic Poetry and Prose into Russian"
Russian-Arabic literary ties date back several centuries. During this period some rather occasional cross-cultural contacts have transformed and grown into regular communication. Renowned authors and pioneers of the Enlightenment movement of the late 19th and early 20th centuries translated great works of Russian writers, communicated with them. Meanwhile, in the USSR translations of greatest pieces of classical Arabic literature (The Thousand and One Nights, folk novels, works of Al-Jahiz, Al-Tanuhi, Imru' al-Qais, Abu Nuwas, Al-Mutanabbi, al-Ma'arri) as well as of new literature (Jurji Zaydan, Mikhail Nu'ayma, Taha Hussein, Tawfik Al-Hakim) were made. In the late 20th and early 21st centuries, even though the state institutions that had facilitated the "translation movement" in Russia have almost disappeared, the movement itself was alive.
Today there is undoubtedly a strong interest in modern Russian literature in the Arab world and in the Arabic literature in Russia. However, there are some factors (small book market, absence of state support, complexity of translating from Eastern languages, lack of specialists) that impede literary ties between the two cultural communities.
The following topics will be discussed:
What are the main trends in the translation of Arabic literature into Russian and Russian literature into Arabic?
Which Russian authors draw the interest of the Arab reader and which Arab authors are preferred by the Russian reader?
What measures can be taken by academic community, public institutions, and governments both in Russia and the Arab world to facilitate "translation movements"?
What difficulties do Russian and Arab literary translators face?
To participate please register here